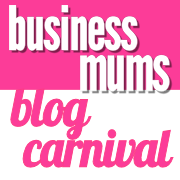 Are you a mum with a business blog? Would you like more traffic and links to your blog, plus more comments? How about a chance to network online around the business mum community?
I'm delighted to be hosting the Business Mums Blog Carnival this month, and I'd love you to join me.
You can pick a favourite from the posts already up on your blog or write and post a new one.
To enter, email the link to your post to me grace@grace-marshall.com by Saturday 17th March.
The carnival will be posted here on 22nd March.
For more details about how it all works or what kind of post to enter, check out the Business Mum's Blog Carnival page.